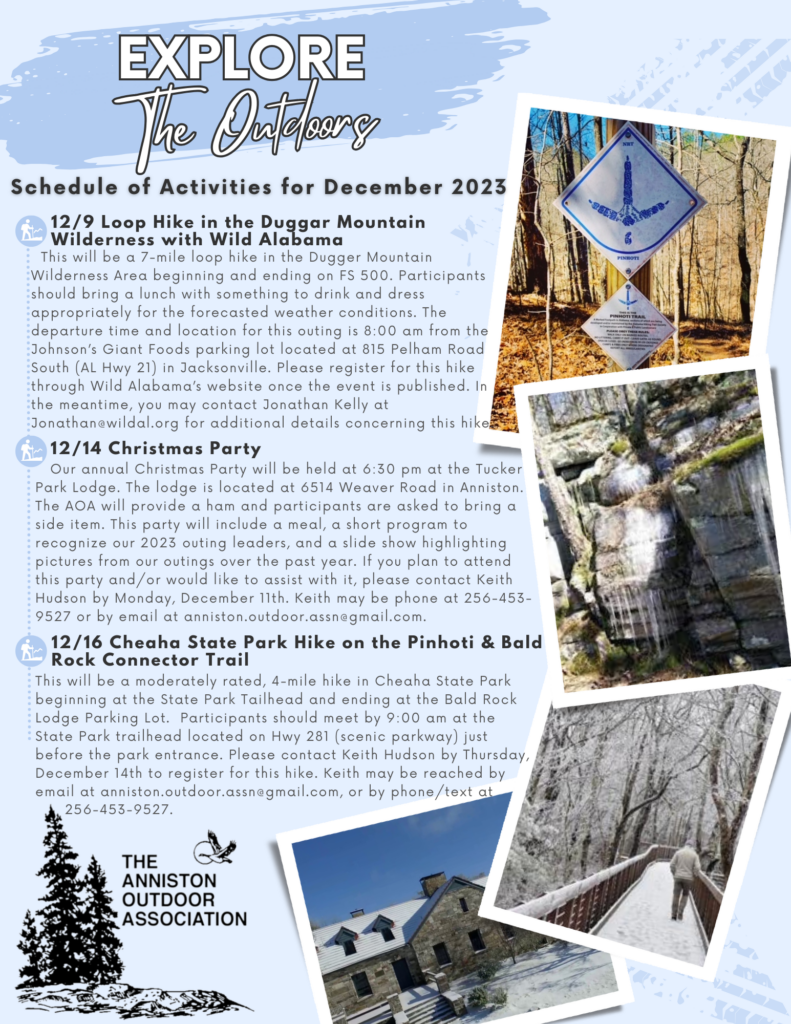 This will be a moderately rated, 4-mile hike in Cheaha State Park beginning at the State Park Tailhead and ending at the Bald Rock Lodge Parking Lot. From the state park trailhead, the hike will begin at the Pinhoti/Hwy 281 crossing and will pass by the headwaters of Hillabee Creek and the Blue Mountain Trail Shelter before reaching the Bald Rock connector trail. Once on the connector trail, there will be a steep ascent to Bald Rock and then a level walk to the lodge using the boardwalk or the adjoining woods trail. Participants should meet by 9:00 am at the State Park trailhead located on Hwy 281 (scenic parkway) just before the park entrance. An adequate number of cars will be placed at the lodge parking lot to shuttle participants back to the trailhead. Please contact Keith Hudson by Thursday, December 14th to register for this hike. Keith may be reached by email at anniston.outdoor.assn@gmail.com, or by phone/text at 256-453-9527.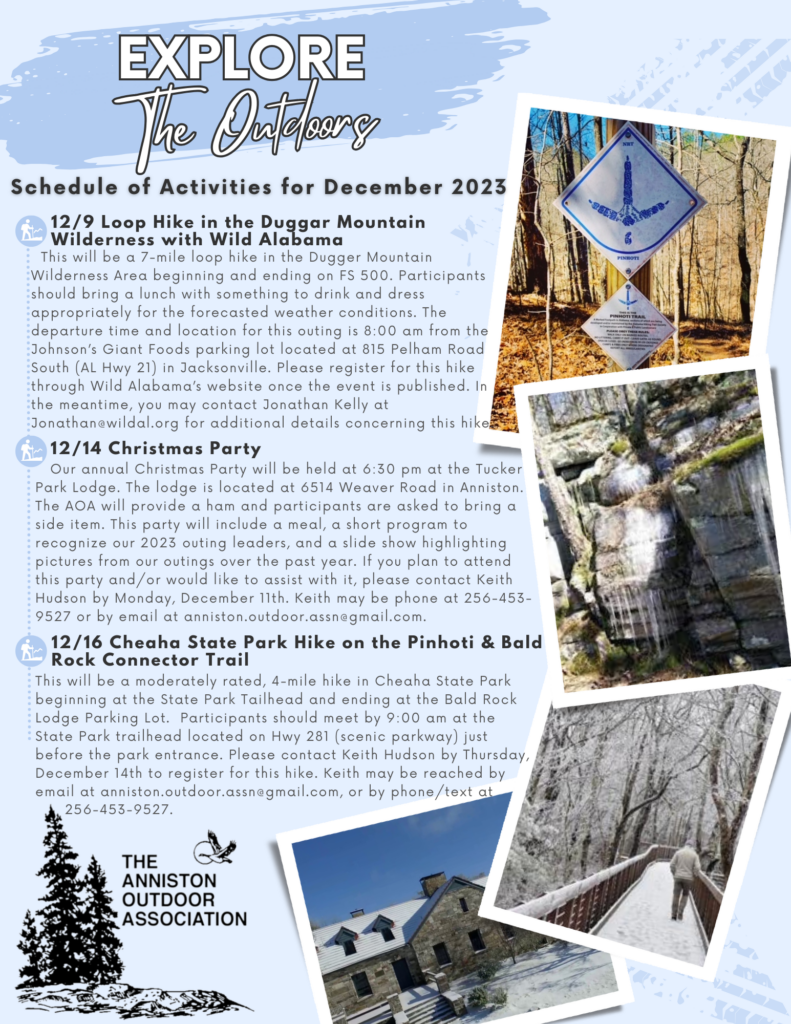 This will be a 7-mile loop hike in the Dugger Mountain Wilderness Area beginning and ending on FS 500. From the Pinhoti Trail crossing at FS 500, plans are to hike up the trail for about 2.5 miles before traveling a short distance cross country to the old fire tower site. From this point, plans include traveling 3.5 miles down the old fire tower road (FS 539) back to FS 500 and then an additional 1-mile walk back down the road to the trail crossing where our cars will be parked. FS 539 offers splendid views of the countryside surrounding Piedmont. There is an option to shorten this hike by 1-mile by placing cars at both FS 500 and FS 539 (Tower Road). Participants should bring a lunch with something to drink and dress appropriately for the forecasted weather conditions. The departure time and location for this outing is 8:00 am from the Johnson's Giant Foods parking lot located at 815 Pelham Road South (AL Hwy 21) in Jacksonville. Please register for this hike through Wild Alabama's website once the event is published. In the meantime, you may contact Jonathan Kelly at Jonathan@wildal.org for additional details concerning this hike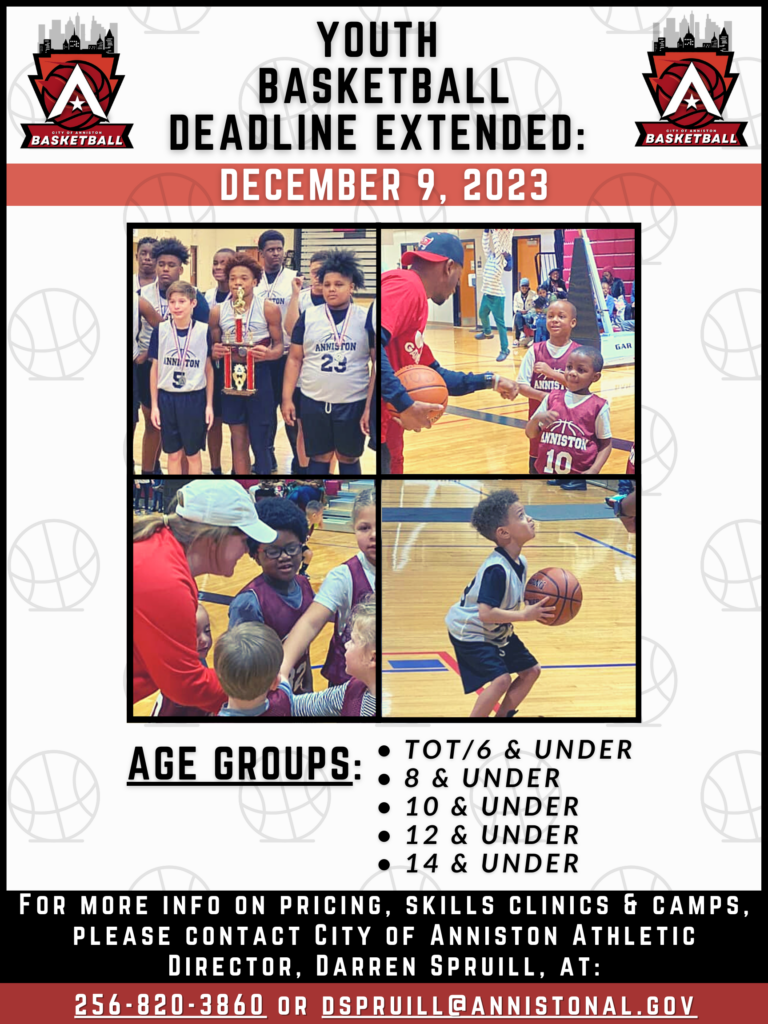 If your young superstar likes to dribble up-and-down the court then now is the time to register them for our 2024 Youth #Basketball Season!
The registration #Deadline has just been extended until Saturday, December 9, 2023!
___________
This winter we are offering Basketball for the following #Age groups:
TOT/6 & Under
8 & Under
10 & Under
12 & Under
14 & Under
___________
You can #Register your superstar online at this link: https://tinyurl.com/44xuh64m 
For questions or more information please contact City of Anniston Athletic Director, Darren Spruill at: 256-820-3860.