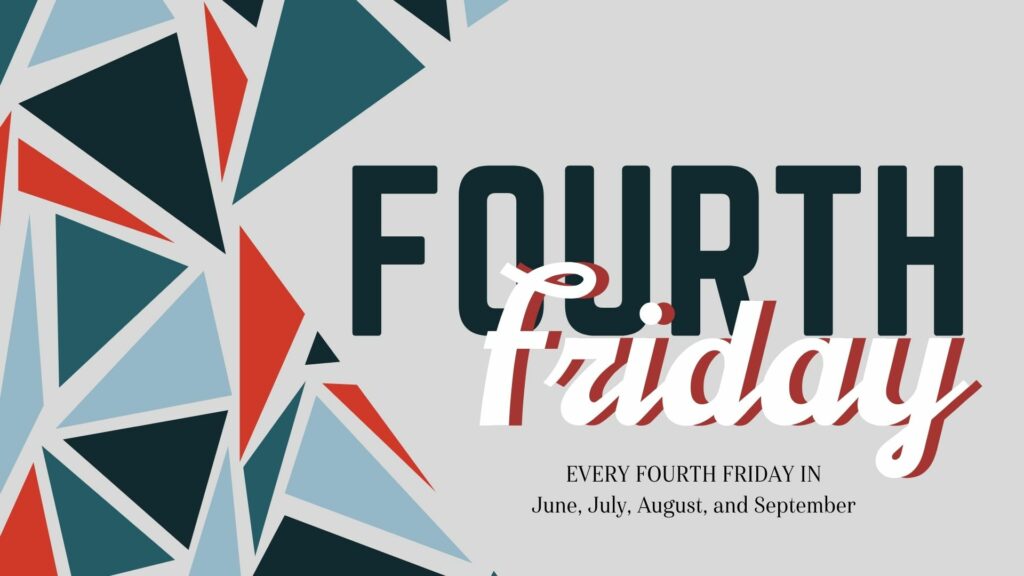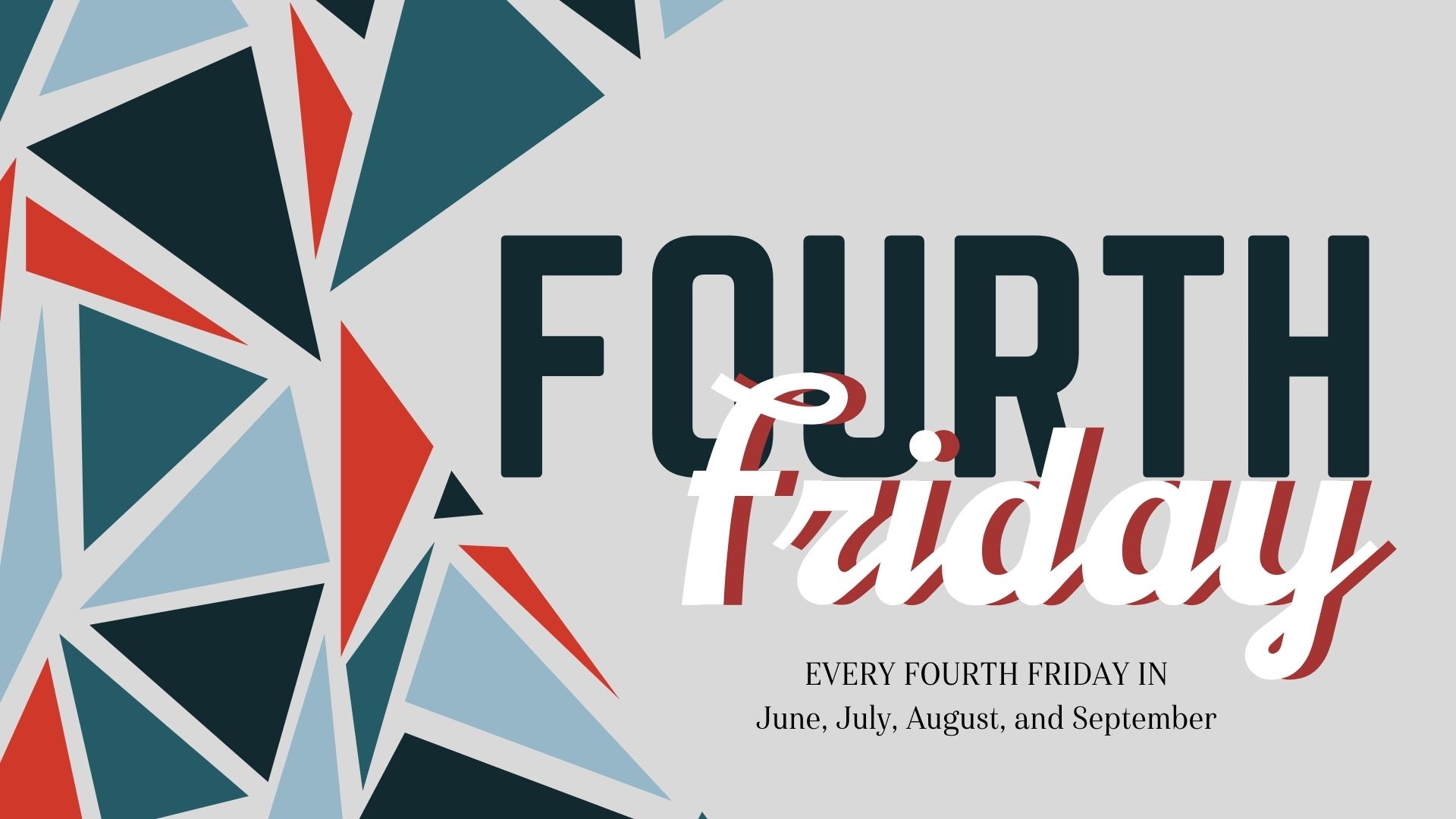 Fourth Friday returns for the summer on the following dates:
 Friday, June 24th at 6:00 PM!
 Friday, July 22nd at 6:00 PM!
 Friday, August 26th at 6:00 PM!
 Friday, September 23rd at 6:00 PM!
We are open to vendors for these four events, so please feel free to complete an application and send it to our Main Street Event Coordinator, Karla Eden, at: keden@annistonal.gov.
Link to Vendor Application: 4th Friday Vendor Application 
For questions, you may reach out to Karla at: 256-371-3711. 
DETAILS:
Join us every fourth Friday of the month June through September from 6pm till 9pm for our monthly street festival. We will have food and artisan vendors, kids activities, various themed shows, the classic car Cruise In, and more.
In June, we are bringing back the popular Freestyle Connection BMX Team for 3 action-packed stunt shows. Also on site, kids can bring their bicycle and test their skills on the Bike Rodeo Course. Learn how to safely maneuver through obstacles that you may encounter on the roads or trails.
In July, Mahealani's Polynesian Entertainment will return to Anniston for our Summer Luau. Mahealani spent the last several months dancing in Hawaii and we are so excited to welcome her group back to Anniston! Join us as they take our community through various authentic island dances.
The Chopped Competition Returns in August, as a few of our downtown restaurants compete to take the title of Chopped Champion from reigning winner, Effina's Downtown.
New this year, Main Street Anniston presents, Decades Night for our September Fourth Friday. As with all our Fourth Fridays, we encourage you to dress for the theme. Pick your favorite decade and come downtown for a night of groovy fun. This might be the end of our summer event series as we begin to gear up for our fall and winter activities but, that don't mean you won't feel your temperature rising… when Elvis takes the stage!  
We love our vendors and can't wait to have you join us for Fourth Friday, but please remember you must submit a new application for each Fourth Friday you plan to attend.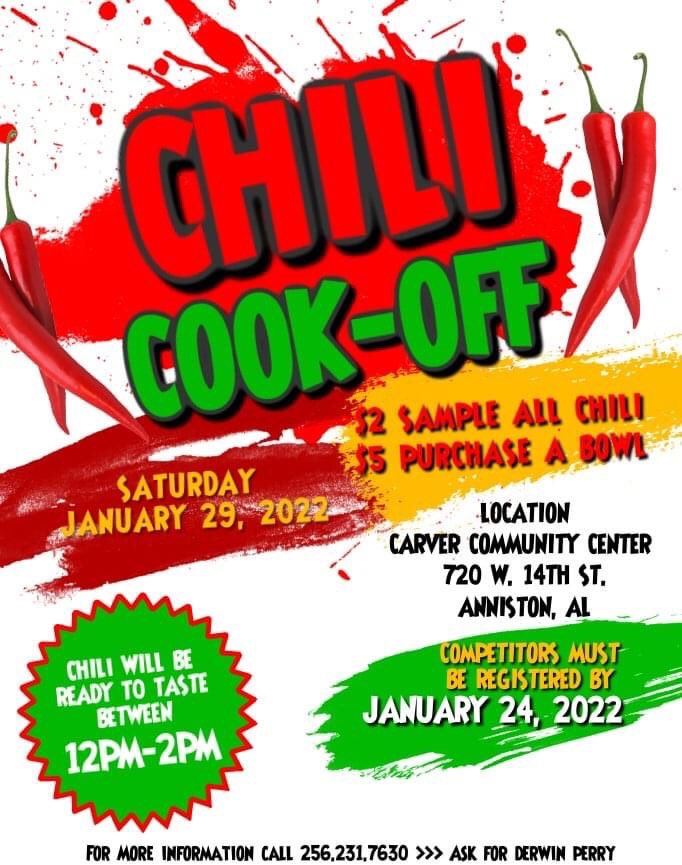 CALLING ALL COOKS & FOOD LOVERS!!!!!!
Are you the best cook in Calhoun County? Prove it by entering into Carver Community Center's Chili Cook-Off!
Carver's Chili Cook-Off is scheduled for Saturday, January 29, 2022 starting at 12PM and ending at 2PM inside the gymnasium. To sample all chili, the cost is $2. To purchase a bowl of chili, the cost is $5.
If you would like to be a chili contestant please contact Carver Community Center at 256-231-7630 and ask for Recreation Leader Derwin Perry by Monday, January 24th.
All contestants must meet at Carver Community Center on Thursday, January 27th at 6:00 PM for an informational meeting.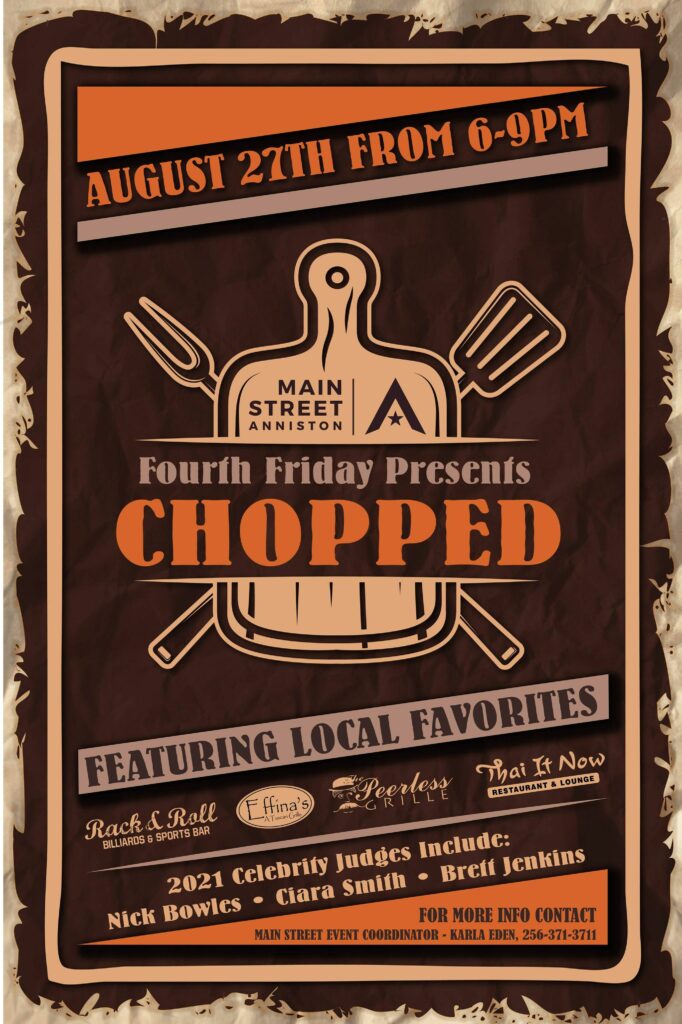 The heat is on against some of Anniston's favorite restaurants as they compete to be Main Street Anniston's CHOPPED Champion!
Local celebrity judges include: Anniston Police Chief, Nick Bowles. Vice-Mayor, Ciara C. Smith. And renowned chef and restaurant owner, Brett Jenkins.
Rack and Roll Billiards & Sports Bar, The Peerless Saloon & Grille, Thai One On Anniston, and Effina's Downtown will compete exhibition style to complete a 3 course meal for our judges. We're confident that these chefs won't let the mystery ingredient put them on the chopping block!
If you are interested in being a vendor at this month's Fourth Friday, you may find the application here: https://rb.gy/nbc0gq