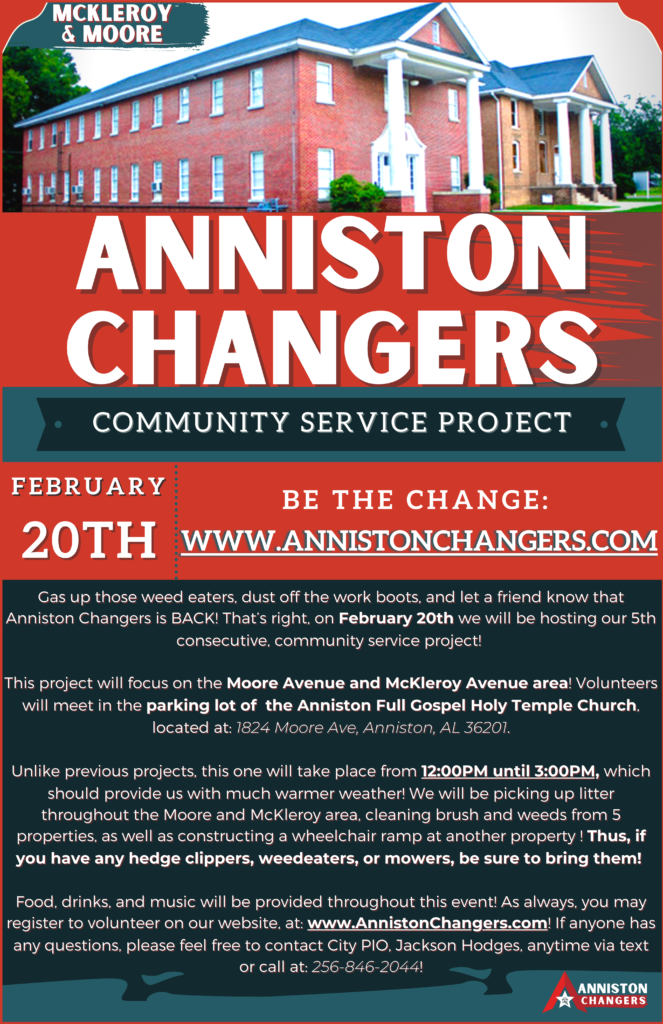 Gas up those weed eaters, dust off the work boots, and let a friend know that Anniston Changers is BACK! That's right, on February 20th we will be hosting our 5th consecutive, community service project!
This project will focus on the Moore Avenue and McKleroy Avenue area! Volunteers will meet in the parking lot of  the Anniston Full Gospel Holy Temple Church, located at: 1824 Moore Ave, Anniston, AL 36201.
Unlike previous projects, this one will take place from 12:00PM until 3:00PM, which should provide us with much warmer weather! We will be picking up litter throughout the Moore and McKleroy area, cleaning brush and weeds from 5 properties, as well as constructing a wheelchair ramp at another property ! Thus, if you have any hedge clippers, weedeaters, or mowers, be sure to bring them!
Food, drinks, and music will be provided throughout this event! As always, you may register to volunteer on our website, at: https://bit.ly/370Zlrm! If anyone has any questions, please feel free to contact City PIO, Jackson Hodges, anytime via text or call at: 256-846-2044!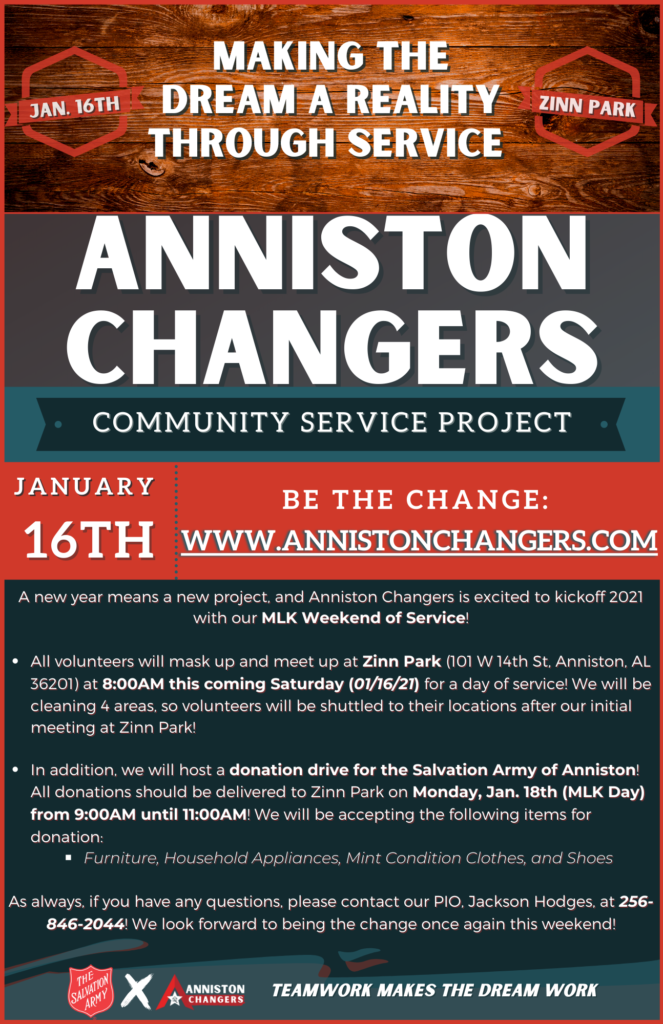 A new year means a new project, and Anniston Changers is excited to kickoff 2021 with our MLK Weekend of Service! To register, visit: AnnistonChangers.com
All volunteers will mask up and meet up at Zinn Park (101 W 14th St, Anniston, AL 36201) at 8:00AM this coming Saturday (01/16/21) for a day of service! We will be cleaning 4 areas, so volunteers will be shuttled to their locations after our initial meeting at Zinn Park!
In addition, we will host a donation drive for the Salvation Army of Anniston! All donations should be delivered to Zinn Park on Monday, Jan. 18th (MLK Day) from 9:00AM until 11:00AM! We will be accepting the following items for donation:
Furniture, Household Appliances, Mint Condition Clothes, and Shoes.