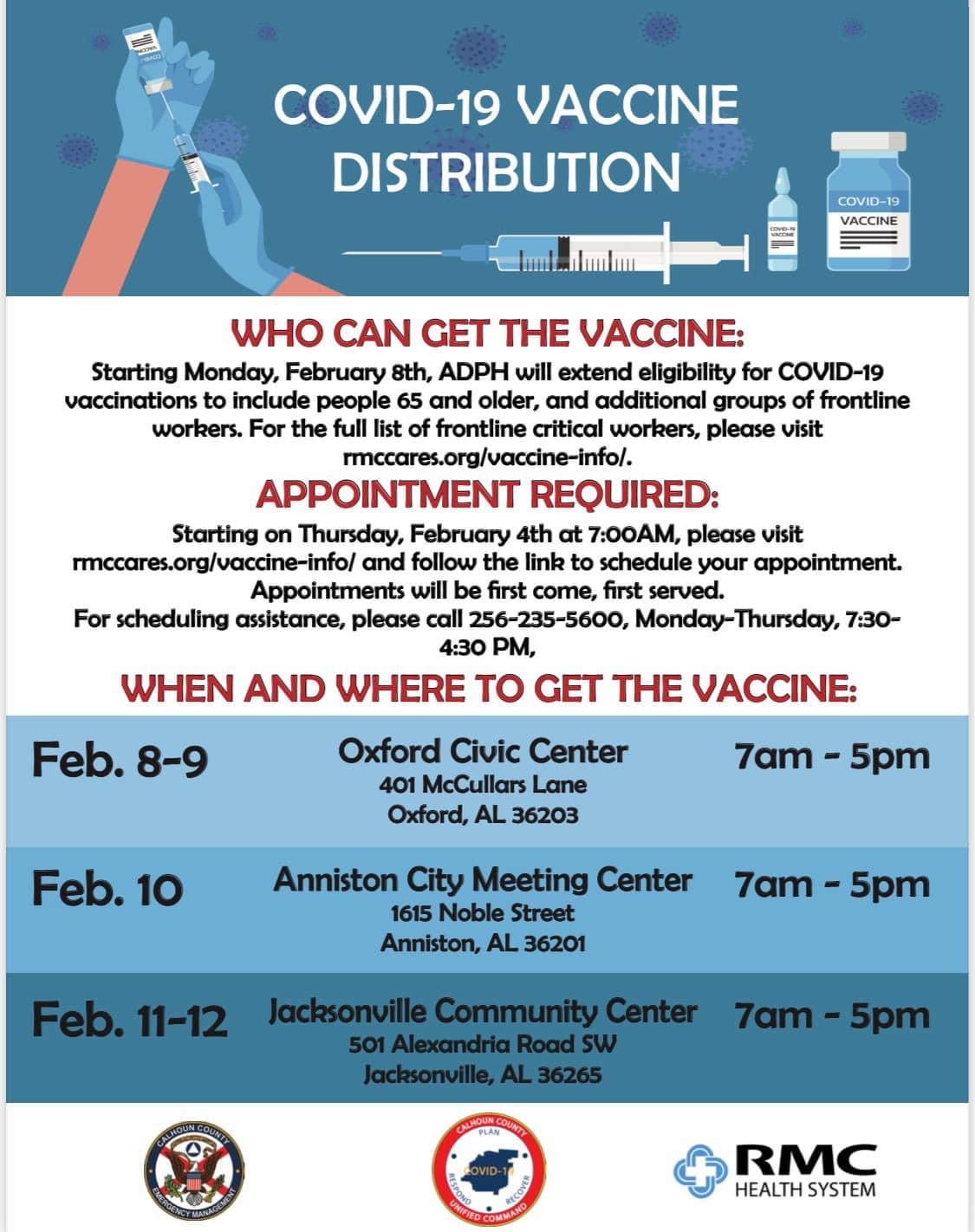 Vaccine Appointments | 65+, Teachers, & More | Feb. 8th-12th
⚠️ Citizens of Anniston, STARTING ON THURSDAY, FEB 4TH AT 7:00AM, please visit rmccares.org/vaccine-info/ and follow the link to schedule your #Appointment. Appointments will be first come, first served. 
📳 For scheduling assistance, please call: 256-235-5600. 
____________________________________
WHEN & WHERE:
1️⃣ Oxford Civic Center (401 McCullars Lane, Oxford, AL 36203)
DATE:

Feb. 8-9

TIME: 7am – 5pm
2️⃣ Anniston City Meeting Center (1615 Noble Street, Anniston, AL 36201)
DATE:

Feb. 10

TIME: 7am – 5pm
3️⃣ Jacksonville Community Center (501 Alexandria Road SW, Jacksonville, AL 36265)
DATE:

Feb. 11-12

TIME: 7am – 5pm
____________________________________
WHO IS ELIGIBLE? 
➡️ People age 65 and older 
➡️ First responders (EMS, Police, Fire) 
➡️ Food and agriculture workers 
➡️ U.S. Postal Service workers 
➡️ Manufacturing workers 
➡️ Grocery store workers 
➡️ Public transit workers 
➡️ People working in education (teachers, support staff, community college and higher education) 
➡️ Childcare workers 
➡️ Judiciary, including but not limited to circuit judges, district judges and district attorneys 
The additional priority groups will add over one million people that are eligible to receive a COVID-19 vaccination in Alabama. While just under two million people will qualify to receive the vaccine, the state continues to receive only around 100,000 doses each week. 
ℹ️ For more information on state guidelines for expanded eligibility, visit https://www.alabamapublichealth.gov/news/2021/01/29.html. 
_______________________________________