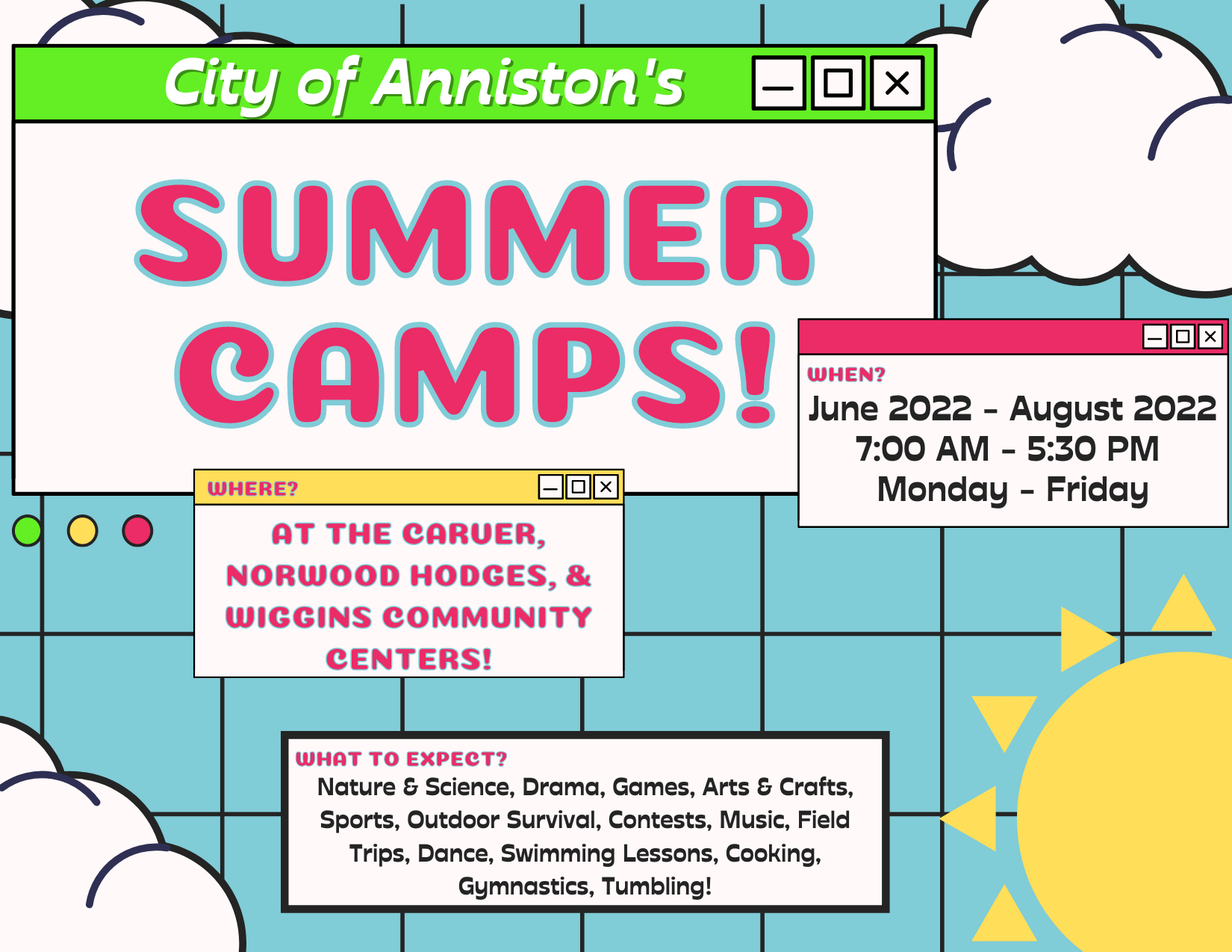 Summer Day Camp Program 2022!
The City of Anniston will host its annual Summer Day Camp Program. The Summer Camp will run from May 31st through August 5th, from 7:00am until 5:30pm (Monday – Friday), and it will take place at the following 3 community centers: the Carver Community Center, Norwood Hodges Community Center, & Wiggins Community Center!
Registration

forms may be picked-up at each community center camp site. To download a printable version of the Summer Camp registration

Form

, follow this link:

https://bit.ly/3LWSLoj

 
---
DETAILS:
DATES & TIMES
The Day Camps begin at 7:00 a.m. and end at 5:30 p.m. — Monday through Friday. Ten action-packed weeks are planned beginning May 3 1 st and ending August 5, 2021. July 4th is a city -wide recognized holiday, and our camps will not operate.
STAFF
Participants in our strategically planned Day Camp Programs are supervised at all times by carefully screened counselors. These qualified leaders instruct the campers, as well as lead them through the daily schedule of activities. Calendars will be available each week to keep parents informed of upcoming events and activities.
COST
Camp fees for residents of the City of Anniston are $55 per week per child; $50 for each additional child in the same family. Weekly fees for non-residents are $60 per week per child. A convenient daily plan is only $15 per child (if space is available). There is a $25 one-time registration fee for all campers. Fees are non-refundable. Camperships are available for low income families living within Anniston City Limits whose children attend Anniston City Schools. Proof of school enrollment must be provided. Call the camp your child will be attending for more information.
REGISTRATION
Early registration is encouraged since all Anniston Day Camp Programs have limited enrollment. To register your child, follow instructions on the attached registration form.
---
DETAILED COST INFORMATION 
Registration Fee: $25.00
RESIDENTS:
Weekly: $55.00

*10 Weeks: $530.00

*May/Jul: $265.00

(May 31st – July 1st) 5 Weeks

*July/August: $265.00

(July 5th – August 5th) 5 Weeks
NON-RESIDENTS:
Weekly: $60.00

*10 Weeks: $580.00

*May/Jul: $290.00

*July/August: $290.00
**ENTIRE SUMMER OR HALF SUMMER FEES MUST BE PAID IN FULL PRIOR TO FIRST DAY OF ATTENDANCE.**
ALL FEES ARE NON-REFUNDABLE