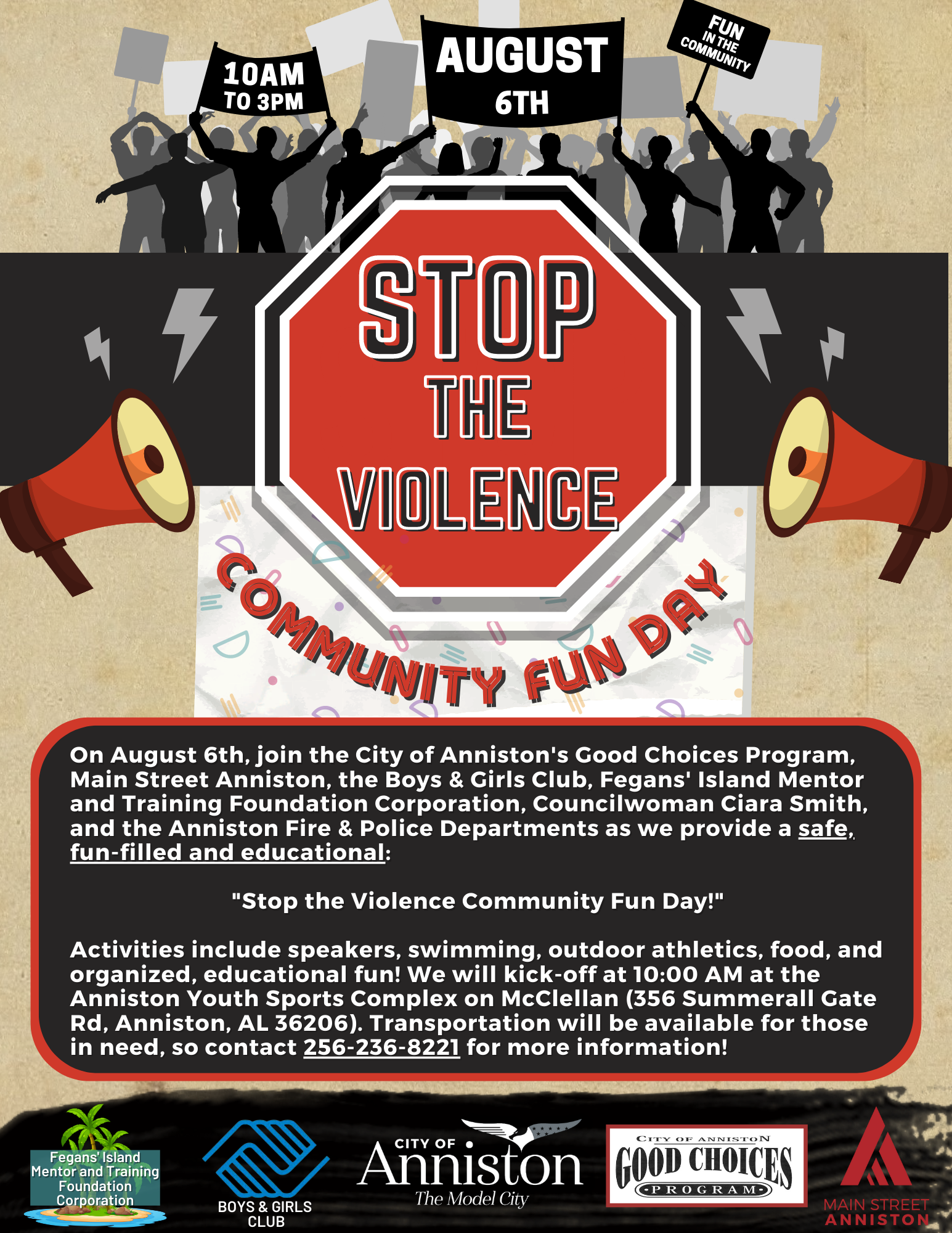 Stop the Violence – Community Fun Day!
On August 6th, join the City of Anniston's Good Choices Program, Main Street Anniston, the Boys & Girls Club, Fegans' Island Mentor and Training Foundation Corporation, Councilwoman Ciara Smith, and the Anniston Fire & Police Departments as we provide a safe, fun-filled and educational: "Stop the Violence – Community Fun Day!"
Activities include speakers, swimming, outdoor athletics, food, and organized, educational fun! We will kick-off at 10:00 AM at the Anniston Youth Sports Complex on McClellan (356 Summerall Gate Rd, Anniston, AL 36206).
If your organization is interested in being a part of this community event, please reach out to 256-236-8221 or email fburroughs@annistonal.govto see how you can get involved!
_______________________________________________________
Transportation will be available for those in need! Buses will pickup between 8:15 AM and 8:45 AM on August 6th. All those riding the bus MUST have a signed PERMISSION SLIP in order to board. Permission slips may be downloaded at this link: https://bit.ly/3cIj6Kf . Permission slips may also be picked up at City Hall, the Norwood Boys & Girls Club, and the Constantine Boys & Girls Club. Buses will drop children off at the same locations they were picked up from between 3:15 PM and 3:45 PM.
Swimming will be available so please bring a bathing suite! Any child 6 and under will need an older sibling or supervisor to accompany them!