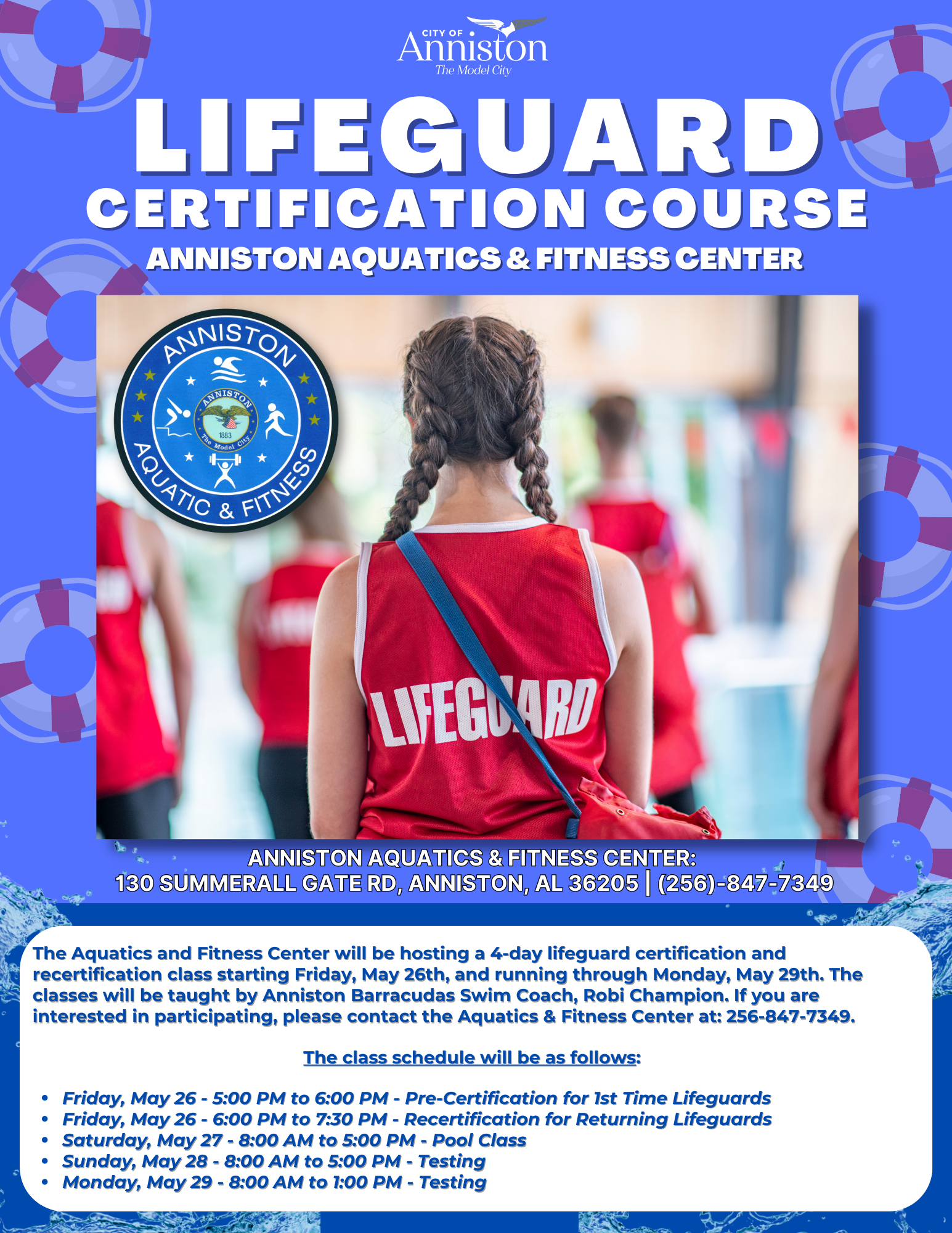 Lifeguard Certification Courses | May 26, 2023 – May 29, 2023
The Aquatic and Fitness Center will be hosting a 4-day lifeguard certification and recertification class starting Friday, May 26th, and running through Monday, May 29th. The classes will be taught by Anniston Barracudas Swim Coach, Robi Champion. 
If you are interested in participating, please contact the Aquatics & Fitness Center at: 256-847-7349. 
The class schedule will be as follows: 
Friday, May 26

– 5:00 PM to 6:00 PM – Pre-Certification for 1st Time Lifeguards

Friday, May 26

– 6:00 PM to 7:30 PM – Recertification for Returning Lifeguards

Saturday, May 27

– 8:00 AM to 5:00 PM – Pool Class 

Sunday, May 28

– 8:00 AM to 5:00 PM – Testing

Monday, May 29

– 8:00 AM to 1:00 PM – Testing
Hourly Schedule
Course Schedule
Friday, May 26 - 5:00 PM to 6:00 PM - Pre-Certification for 1st Time Lifeguards
Friday, May 26 - 6:00 PM to 7:30 PM - Recertification for Returning Lifeguards
Saturday, May 27 - 8:00 AM to 5:00 PM - Pool Class
Sunday, May 28 - 8:00 AM to 5:00 PM - Testing
Monday, May 29 - 8:00 AM to 1:00 PM - Testing