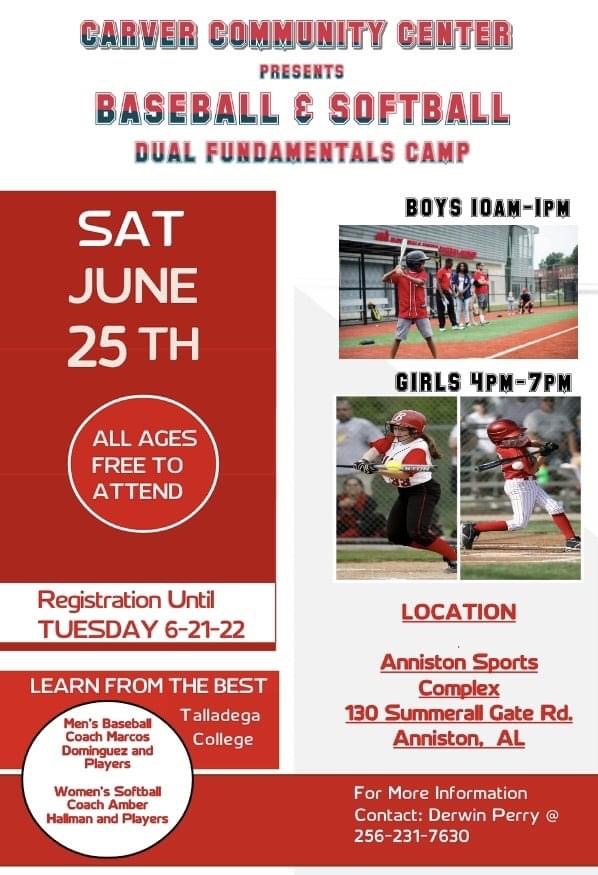 Baseball & Softball Dual Fundamentals Camp!
CALLING ALL BASEBALL & SOFTBALL PLAYERS!
Carver Community Center will have a dual fundamentals camp on Saturday, June 25th from 10am until 1pm (boys) and 4pm until 7pm (girls).
Host Location: Anniston Sports Complex (right next to
Anniston PARD Aquatic & Fitness Center
-130 Summerall Gate Rd) Teams or individuals of all ages are welcome! Come learn the keys to better base running, catching, discipline on the field, and sportsmanship from Carver's Recreation Leader, Derwin Perry and our special guests Head Baseball & Softball coach from Talladega College, Marcos Dominguez and Amber Hallman
THIS IS A FREE EVENT, however registration is required!
To register please go to the following links:
______________________________________________________
Registration Deadline is Tuesday, June 21, 2022.
***Spots are limited to 40 children per session
***In the event of inclement weather, this event will be cancelled. Parents or coaches who have registered will be notified***
For more details please call Carver Center at 256.231.7630 and speak with Recreation Leader Derwin Perry.
All participants and their parents/coaches are encouraged to follow current COVID safety precautions!
Hourly Schedule
Boys
10:00 AM

-

1:00 PM

Boys Camp
Girls
4:00 PM

-

7:00 PM

Girls Camp