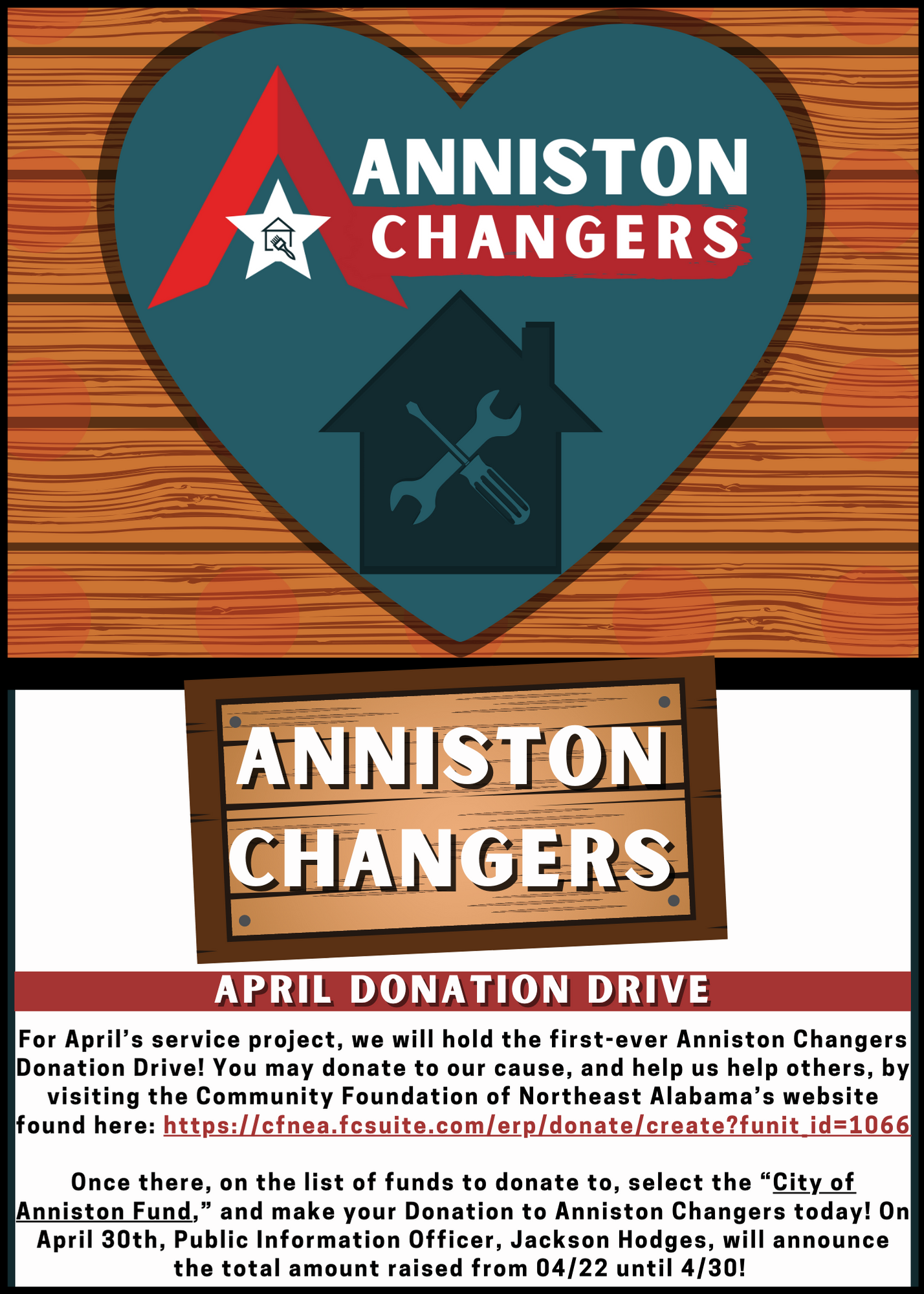 Anniston Changers | April Donation Drive!
DONATE HERE: https://cfnea.fcsuite.com/erp/donate/create?funit_id=1066
Unfortunately, due to the weather forecast for this coming weekend, Anniston Changers' 7th service project in the 10th Street Community has been #Postponed. We will be sure to get back to working hard next month, so stay tuned for details on our May service project!
That said, we have exciting news to put in place of what we had planned for this weekend! You see, Anniston Changers' long-term goal was to take-in applications for home repairs up to $1,000 per approved individual. 
For the past several months, our team has worked behind the scenes in order to make this goal a reality. We are now proud to say that Anniston Changers has established its first-ever board of directors, and we have been blessed thus far with over $31,000 in donations for our home repair quests! 
Here is where you come in! For April's service project, we will hold the first-ever Anniston Changers Donation Drive! You may donate to our cause, and help us help others, by visiting the Community Foundation of Northeast Alabama's website found here: https://cfnea.fcsuite.com/erp/donate/create?funit_id=1066
Once there, on the list of funds to donate to, select the "City of Anniston Fund," and make your #Donation to Anniston Changers #Today! On April 30th, Public Information Officer, Jackson Hodges, will announce the total amount raised from 04/22 until 4/30! 
The Anniston Changers are beyond thankful for its partners at the Community Foundation for helping us make our dream a reality! Around May 22, 2021, our board will have online applications available for those seeking repair assistance. We will be sure to give all the details on the application process once it's ready to go in late May! 
Until then, we would be humbled to receive your donations, 100% of which shall go directly to our work in rebuilding and repairing homes throughout our beloved city! 
If anyone has any questions, please feel free to contact City PIO, Jackson Hodges, anytime via text or call at: 256-846-2044!
Thank you! 
#Anniston
#BeTheChange
#AnnistonChangers