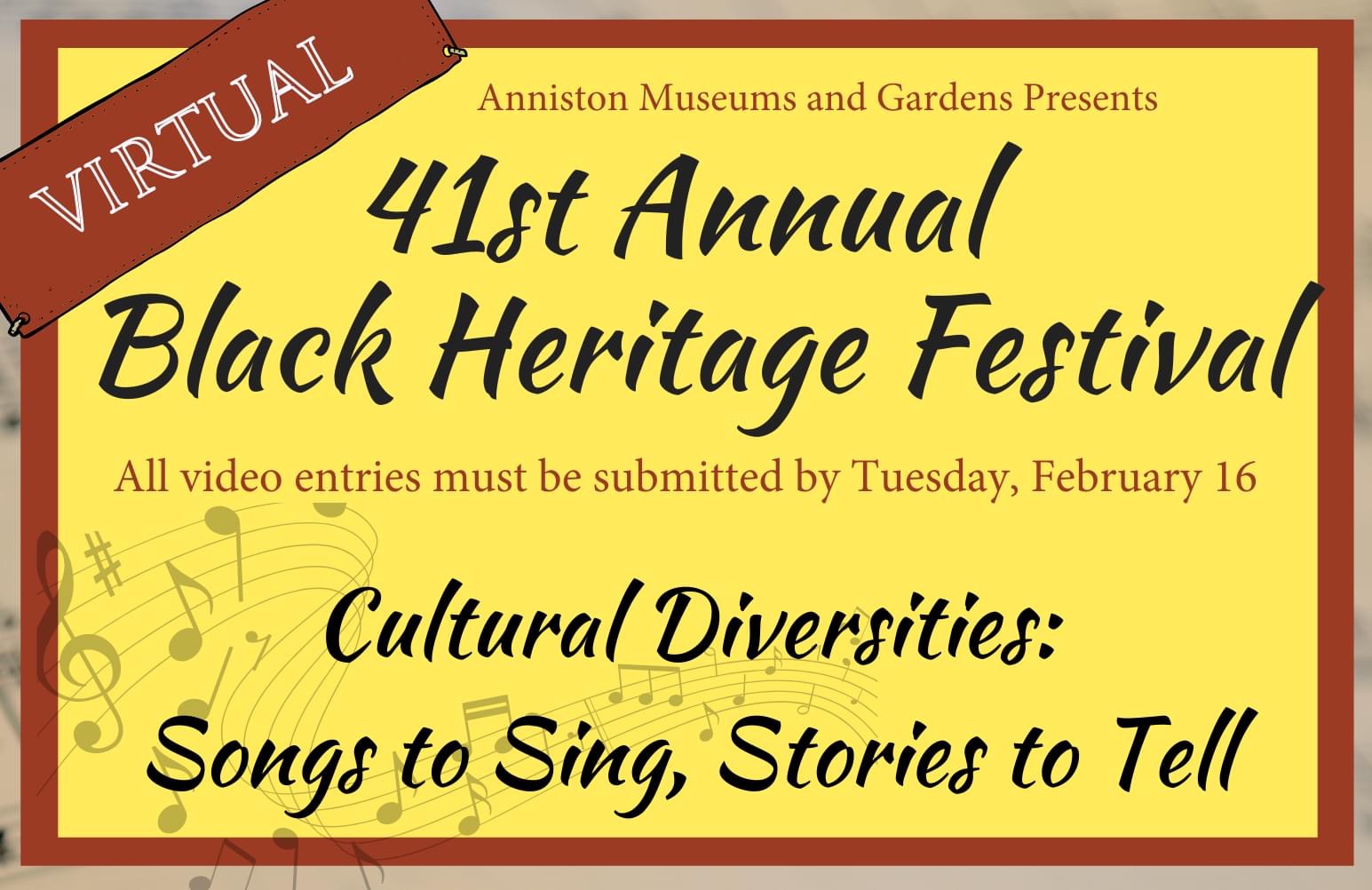 41st Annual Black Heritage Festival | Winning Videos Premiere
The Anniston Museums and Gardens' annual Black Heritage Festival returns for the 41st year with a new format to keep our community safe. This year's festival will take place virtually by participants pre-recording his/her oration and submitting his/her video to the Anniston Museum of Natural History with the theme of Cultural Diversities: Songs to Sing, Stories to Tell. 
Children interested in participating in the oration competition may ask their teacher or guardian to record his/her oration and send the video to the Anniston Museum of Natural History's Facebook page via Messenger, upload to the Anniston Museums and Gardens' Google Classroom (Class Code: l5nqrcz), or schedule a time to record at the museums. All videos can be uploaded between February 1 and February 16. Videos will not be accepted after Tuesday, February 16.
The Oration Competition will be privately streamed for competition judges on Saturday, February 20. Following the streaming, the winners' videos will be posted to the Anniston Museums and Gardens social media pages. All participant videos will be uploaded to our website and YouTube channel the week of February 22.
Participants and up to eight guests will receive one-time complimentary admission to Anniston Museum of Natural History and Berman Museum valid February 20-28. At that time participants may also pick up their participant envelopes.
The annual Black Heritage Festival is coordinated by Mrs. Georgia Calhoun. 
To download a participant application, instructions, and an AM&G recording schedule, please visit https://www.exploreamag.org/41st-annual-black-heritage-festival-virtual/. If you have any questions, please contact Sarah Burke at 256-237-6261 x 402 or sburke@annistonmuseum.org. 
We look forward to seeing our community's youth's creativity during this year's festival!